This ONLINE course will cover an analysed biomorphic pattern by Adam Williamson.
Learn to draw this stunning Persian pattern from Yazd.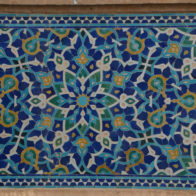 To gain access to the course pack click the link below. Suggested donations of £5, £15 or £30 to enable us to continue these classes.
Please wait after making the donation to be redirected to a page containing a dropbox link.
If your country doesn't support PayPal or you have any issues please Email:
The course will require you to download the free app Zoom
REQUIRED equipment & materials

A compass (recommended compass is the Rotring Master Bow)
A ruler
Cartridge paper – ideally A3 size
Range of Pencils (6B-4H)
Tracing paper
Zero Eraser or equivalent
Optional – Coloured pencils.
Optional – Fine line drawing pens (useful to have, but not essential)