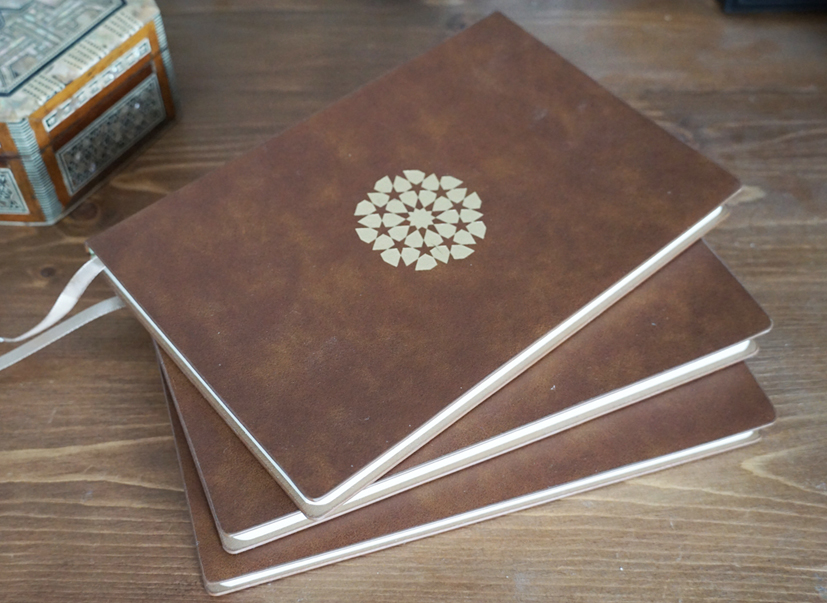 REGISTRATION NOW OPEN All Registrants will receive a FREE signed copy of the Islamic Geometry Journal, invites to all LIVE sessions and lifetime access to class recordings and supporting material.
Taught by Richard Henry, this NEW SERIES will focus upon patterns from the Islamic Geometry Journal (Wooden Books 2019)
The Islamic Geometry Journal is a beautifully presented luxury journal/notebook created by award winning publisher Wooden Books. Bound within a leatherette cover, it comprises 160 pages of watercolour-quality paper, lined, gridded and blank, together with reproductions of 32 original drawings by Richard Henry gathered from his classes and study trips over the last 10 years.
In this 4 week course, we will re-create a selection of designs from the journal and discuss the historical context of each pattern. Design sources range from Andalucia, Morocco, Turkey, Cairo and Persia and more. Patterns taught will be new designs not previously taught on-line by Richard Henry.
This is a beginners–intermediate level course. We will start with some of the simpler designs and then move onto more complex patterns. Scroll through header images to see examples of patterns that feature in the Journal.
Each session will be 2.5 hours long (although occasionally we will overrun slightly). All registrants will receive weekly invites to upcoming LIVE sessions, as well as life-time access to all access to video recordings of all previously presented sessions. A workshop video and additional supporting material will be available to download to ALL registrants after each session, whether they are able to attend the 'live' session or not.
On-line Registration Fee – Full Series (including signed copy the journal): £50 – £70.
To purchase the Journal on its own the fee is £15.
You will receive payment confirmation and within 24 hours before the start of the workshop, a link with joining instructions for the zoom workshop will be sent my email.
Late Registration and Cut-Off: Anyone registering any later than 1:00 pm GMT on the day of the workshop, may be too late to receive the access codes in time to access the afternoon workshop. However everyone who registers will receive a link the recording and other supporting materials within 24 hours of the end of the workshop.
The course will require you to download the free app Zoom
REQUIRED equipment & materials

A compass (recommended compass is the Rotring Master Bow)
A ruler
Cartridge paper – A2 size ideally heavy weight (120gsm plus)
Range of Pencils (6B-4H)
Tracing paper
Masking Tape
Zero Eraser or equivalent
Optional – Coloured pencils.
Optional – Fine line drawing pens (useful to have, but not essential)