Exploring new patterns, these ONLINE presentations taught by Adam Williamson are inspired by his studies and travels.
This short series explores the roots of Islamic ornamentation, we will draw 5 soffits from Ibn Tulun in Cairo.
The 9th Century Abbasid carvings at Samarra are some of the earliest examples of Islamic Art, these rich and unique patterns have a rich array of influences from Byzantine to Sasanian and Hellenic. After the collapse of the Abbasid caliphate stucco continued to be one of the main forms of decoration and spread throughout the Islamic world to India, Anatolia and Spain.
Intrados/soffit is the interior curve of an arch, adorning the passage or heavenly gateway. Vines spiral and flow from the arch apex bifurcating into blooming motifs. 
……………………………………………………………………………………………………………….

The Samarra Stucco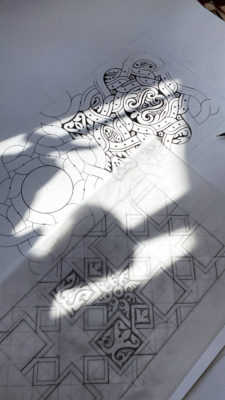 ………………………………………………………………………………………………….

Please wait after making the donation to be redirected to the registration page. We will also send everyone an email before the class with material to familiarise yourself before the session along with the online passcode again which will give you access to the class on Saturday.
If your country doesn't support PayPal or you have any issues please Email:

REQUIRED equipment & materials

A compass (recommended compass is the Rotring Master Bow)
A ruler
Paper size A3 =  29.7 x 42.0cm, 11.69 x 16.53 inches
Range of Pencils (6B-4H)
Tracing paper
Zero Eraser or equivalent
Optional – Coloured pencils.
Optional – Fine line drawing pens (useful to have, but not essential)