ONLINE course 
Thanks to my teachers geometers Keith Critchlow, Paul Marchant and for the analysis collaboration with Sharmina Haq.
Learn how to draw this famous Alicatados masterpiece of the Mexuar found in the Alhambra Palace over a special 3 part extended class.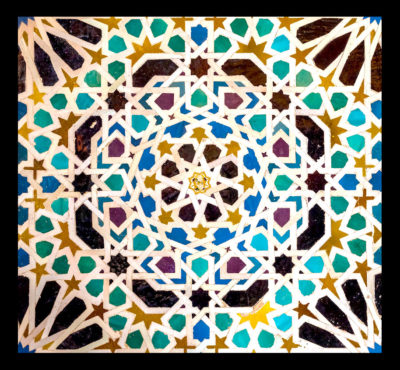 This is one of the first patterns you encounter when you enter the Alhambra Palace, its synonymous with the architecture of the Nasrids architecture in Spain.
If you haven't taken the first preparatory part to this class. You can  download the recording HERE and complete this stage yourself before this class. You do not need to have taken part 2.
Mexuar is derived from the Arabic term Maswar, the place where the Surah or Counsel of Ministers met. It was also the place or hall where the Sultan dispensed justice.
This room probably belonged to a structure that preceded the Palace of Comares and the Palace of the Lions. Its construction is attributed to Isma'il (1314-1325). Its decoration was adapted by Yusuf I (1333-1354) and later by Muhammad V during his second mandate (1362-1391).
We will draw a series of Alicatados (cut ceramic) rosettes and look at the alternative centres and weaving techniques.

Session 3 
Octagonal variation
Downlaod course Pack Link
Please wait after making the donation to be redirected to the course Pack download page.
If your country doesn't support PayPal or you have any issues please Email:
REQUIRED equipment & materials
A compass (recommended compass is the Rotring Master Bow)
A ruler
Cartridge paper – A3 size ideally heavy weight (120gsm plus)
Range of Pencils (6B-4H)
Tracing paper
Zero Eraser or equivalent
Optional – Coloured pencils.
Optional – Fine line drawing pens (useful to have, but not essential)