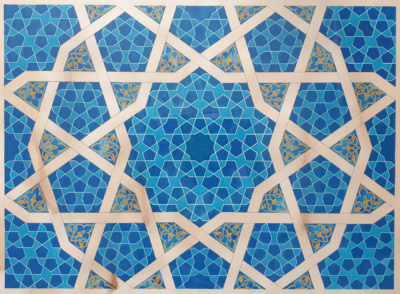 ONLINE presentation taught by Ameet Hindocha, Hosted by Adam Williamson.
The creation and application of dual-level or self-similar geometric patterns (where the same forms appear at two different scales in one design) is one of the creative and conceptual pinnacles of Islamic geometric design.
In this class we will construct this beautiful example from the Vakil Mosque in Shiraz, Iran and discuss techniques for bringing out the two levels in the design.
Painting (right) by Mohammed Aziz

A Dual Level Pattern from Shiraz
WATCH THE CLASS RECORDING
Please wait after making the donation to be redirected to the registration page.
We will also send everyone an email before the class with material to familiarise yourself before the session along with the online passcode again which will give you access to the class on Saturday.
If your country doesn't support PayPal or you have any issues please Email:
REQUIRED equipment & materials

A compass (recommended compass is the Rotring Master Bow)
A ruler
Paper size A2
Range of Pencils (6B-4H)
Tracing paper
Zero Eraser or equivalent
Optional – Coloured pencils.
Optional – Fine line drawing pens (useful to have, but not essential)