This ONLINE presentation and course taught by the celebrated calligraphers Paul Antonio & Soraya Syed, session facilitated by Adam Williamson.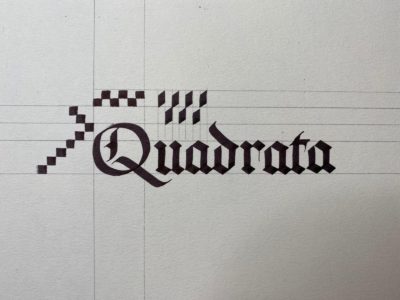 Special session discusses the place of Calligraphy with the decorative canon comprising of Calligraphy, Geometry and Arabesque.
There will be practical introductions tools, materials an introduction to western Quadrata script and the proportioning system attributed to Ibn Muqla (d. 940) who is an iconic figure in Arabic calligraphy
"Calligraphy is spiritual geometry made manifest through physical tools". Attributed to Yaqut al-Mustasimi
Textualis Quadrata was the basis of most the scripts used in the Gothic/Mediaeval period. It reflected the geometry used in the cathedrals and rose windows of the time by placing emphasis on the square, circle, quadrant, lozenge and vertical downstrokes.
The session can be observed or participatory. Equipment link below.
Calligraphy in the Decorative canon
To download the course pack click the link below. Suggested donations of £10, £20 or £30 to enable us to continue these classes.
Please wait after making the donation to be redirected to the registration page. We will also send everyone an email before the class with material to familiarise yourself before the session along with the online passcode again which will give you access to the class on Saturday.
If your country doesn't support PayPal or you have any issues please Email:
The course will require you to download the free app Zoom
REQUIRED equipment & materials
Arabic Calligraphic reed pen Kalam
UK Supplier – Western Calligraphy Pen
UK Supplier – Paper Pad
US Supplier – Western Calligraphy Pen or Calligraphy Pen
US Supplier – Paper Pad or Paper Pad