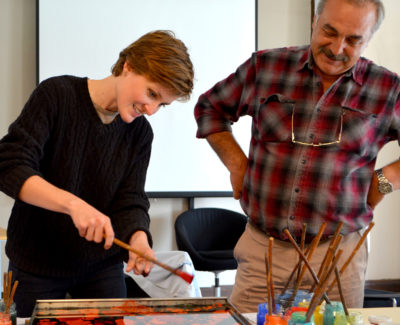 LIMITED PLACES REMAINING
REGISTER NOW FOR THE Autumn 2024 ISTANBUL STUDY TRIP with 50% deposit payment:-
In the Autumn of 2024 Art of Islamic Pattern will lead a five-day intensive workshop in Istanbul, Turkey.
This workshop will be situated within the beautiful and exceptionally well-appointed Istanbul Design Centre, a 17th century Tekke (pilgrimage lodge), located in the historic heart of the city, with views overlooking Sinan's Sokullu Mehmet Pasha mosque and the Bosphorus beyond.
In addition to daily practical classes in geometric and biomorphic design, there will be site visits to the the Topkapi Palace and some of most celebrated masterpieces of Ottoman architecture, including the Blue Mosque, the mosques of Sokullu Mehmet Pasha and the Suleymaniye. There will also be an opportunity to gain practical experience of traditional Ebru painting with a local master.
DISCOUNTED PLACES for local Turkish Nationals: Please ask for details.
Note: As with all our study trips, all teaching material will be based upon local sources: on this trip the mosques of Istanbul. The content is different to our London courses and all our other study trips.
You can read about and see images from the Art of Islamic Pattern study trips to Istanbul in 2011, 2014, 2015, 2016, 2017 & 2018 here
"Just to say a huge thank you for a wonderful course in Istanbul! I thoroughly enjoyed it, thought the classes were great, and it was also a brilliant opportunity to meet like-minded and inspirational people. It's one of the best things I have done.
Thank you once again for a well-organized course and excellent tuition."
Lizzie Hobbs, Istanbul 2015 study Trip What students Say