This ONLINE course taught by Yasmin Hayat @yasmin_hayat & Adam Williamson.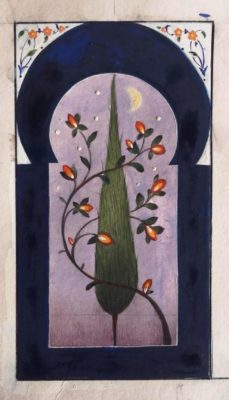 Paint a Persian Miniature Paradisal Garden
A special one event with guest the painter Yasmin Hayat. This session was an introduction to the basics of Persian miniature painting. Learn to paint a small garden of paradise, and practice using miniature techniques. Through a series of practical demonstrations, including layering, colour mixing and painting techniques, students will learn the methodology to be used in their paintings.
By the end of the course, participants will have a basic, practical understanding of how natural elements are drawn, and painted using traditional techniques.
Paint a Paradisal Garden
An introduction to Persian Miniature Painting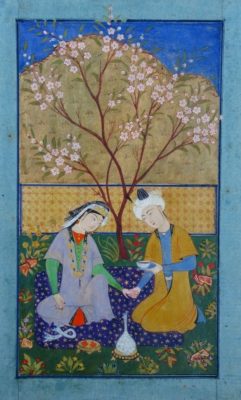 Click the link below to download the course pack.
Suggested donations of £5, £15 or £30 to enable us to continue these classes.
Please wait after making the donation to be redirected to the download page with a zoom and dropbox link.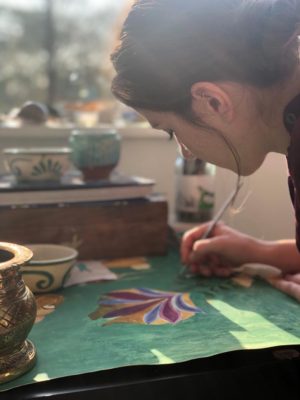 If your country doesn't support PayPal or you have any issues please Email:
The course will require you to download the free app Zoom
REQUIRED equipment & materials

Materials
Handover brushes series 33 (or any other good quality, Kolinsky sable watercolour brush) in sizes 00, 1, 2 and 6/8. Click to see an exampleof the type of brush needed.
A ceramic palette with wells or an old ceramic porcelain/china plate
2B, HB and H pencil (0.3 if using mechanical)
2 sheets tracing paper (A4 or 27 × 11.69 inches)
Ruling pen (optional)
Masking tape
Ruler
Eraser
Couple of sheets of A4 (8.27 x 11.69 inch) 300gsm hot pressed water colour paper. 
A4 (8.27 x 11.69 inches) or larger drawing board or hardback book. (A drafting table can be used in place)
Templates (received in e-mail closer to the course date)
Kitchen towel or old dish cloth
A burnisher (Or an alternative smooth surface, such as a cowrie shell, agate or marble stone, or the hand of a cup.)
Gouache in the following recommended colours:
– Indigo
– Ultramarine
– Cerulean Blue
– Cadmium or Lemon yellow
– Yellow Ochre
– Alizarin Crimson
– Vermillion or Cadmium scarlet.
– Titanium or Zinc white (not Chinese, or permanent white)
– Black (lamp black or ivory black)
– Burnt umber or Red ochre or Sepia.
– Oxide of Chromium* (recommended but not essential) click here for link.
– Cobalt Turquoise* (recommended but not essential)
Who is this course for?
All levels of experience and ability welcome.
Is there any preparation?
There is a little preparation to be done prior to the workshop. Closer to the date of the class you will receive an email containing some templates. Please follow the basic instructions and have the everything ready before participating in the session.
What should I wear?
Wear comfortable clothing that you do not mind getting slightly messy. Avoid wearing: Baggy clothing (especially sleeves) and Loose jewellery.
What about natural pigments?
Due to the long preparation, difficult accessibility and toxicity of some natural pigments, we will be using easily accessible, ready-made alternatives for this workshop. Traditional miniatures are completed using paints derived from minerals, earths and insects. You will be able to achieve a similar result and finish using the recommended colours in the materials list.