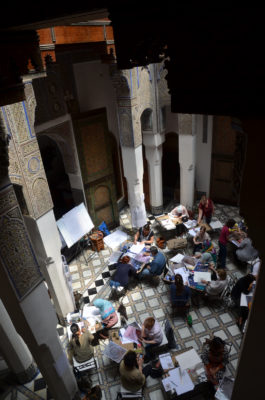 In Spring 2020 Art of Islamic Pattern will run five-day workshops in Fez, Morocco. Classes will take place in Dar Seffarine a superb 600-year-old courtyard house deep in the oldest part of the medina and covered with original splendid carved plaster, woodwork, zellij and zouaq (painted wood).
The study trip will include visits to some of the most remarkable architectural masterpieces in the Islamic world: the Bou Inania Madrasa (1356) and the Al-Attarine Madrasa (1331) and to other important hidden gems.
The course offers the opportunity to experience making geometric and biomorphic designs using traditional methods, on-site. There will also be a zellij (mosaic tiles) class at a local
workshop in which participants produce their own unique pieces to take home with them.
This course can be taken in combination with the Marrakech study trip , which has completely different content, taking place the week before Fez course – participants combining both trips will receive a 10% discount off the combined total fee.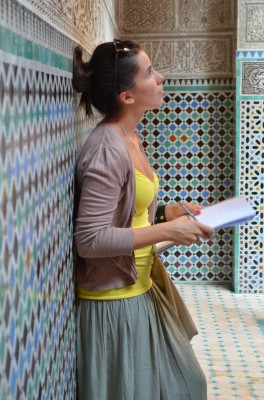 Note: As with all our study trips, all teaching material will be based upon local sources: on this trip the madrasas of Fez. The content is different to our London courses.
To register or for further details please use the contact panel on right.
To view Art of Islamic Pattern's previous study trips to Fez, Morocco take a look at the picture galleries.
Learning from the Pattern-Masters from AramcoWorld on Vimeo.
Art of Islamic Pattern Fez study tour 2016 from Cat Wilson on Vimeo.
Fez Study Tour 2016 Zellij Workshop from Cat Wilson on Vimeo.