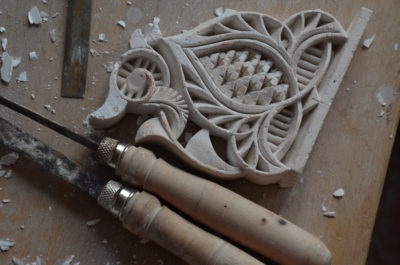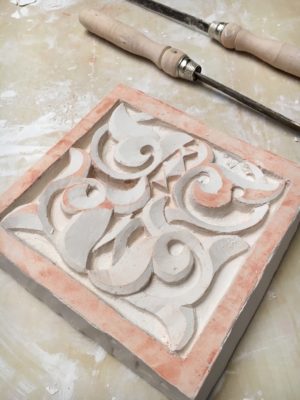 This ONLINE presentation and course taught by Adam Williamson.
Participate in the most delicately fulfilling carving experience by realising patterns in a traditional medium.
This is a unique opportunity to study stucco/ plaster carving with a practicing sculptor live from his studio. Adam will share stories from his experiences training with and interviewing many carving masters from around the world.
The patterns used for the intro exercises will focus on the geometric and biomorphic patterns and techniques of the Islamic lands, techniques and skills shared will draw on a multitude of world traditions.
Participants will practice relief & piercing carving techniques and receive an introduction to plaster casting and mold making. There will also be to opportunity to use the zewana and traditional chisels from Morocco.
PLASTER CARVING – GEOMETRY 
Sunday 29th November 2020
15:00- 18:00
British Summer Time – Time zone in United Kingdom (GMT)
PLASTER CARVING – BIOMORPHIC (ARABESQUE)
Sunday 6th December 2020
15:00- 18:00
British Summer Time – Time zone in United Kingdom (GMT) 
To register click the links above. Suggested donations of £10, £20 or £30 to enable us to continue these classes.
Please wait after making the donation to be redirected to the registration page. We will also send everyone an email before the class with material to familiarise yourself before the session along with the online passcode again which will give you access to the class on Saturday.
If your country doesn't support PayPal or you have any issues please Email:
The course will require you to download the free app Zoom
REQUIRED equipment & materials
A ruler
Range of Pencils (6B-4H)