This ONLINE course taught by Adam Williamson & Leila Dear.
The Pattern (right) has been prepared for this event. Inspired by classes with master geometer Paul Marchant.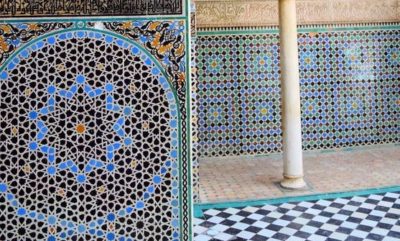 Learn how to draw this sublime 10 fold rosette in this extended one off session. We are very excited to share this remarkable pattern found in both the Bou Inania Madrasa (1356) and the Al-Attarine Madrasa (1331) in Fez Morocco.
The Jewel of the Attarine
Thursday 28th May
15:00- 19:00
Includes a 30 min Break
British Summer Time – Time zone in United Kingdom (GMT+1)
To register click the link below. Suggested donations of £5, £15 or £30 to enable us to continue these classes.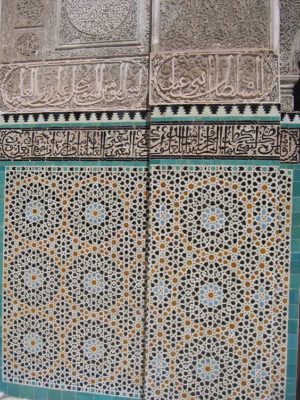 Please wait after making the donation to be redirected to the registration page. We will also send everyone an email before the class with material to familiarise yourself before the session along with the online passcode again which will give you access to the class on Saturday.
If your country doesn't support PayPal or you have any issues please Email:
The course will require you to download the free app Zoom

REQUIRED equipment & materials

PART 1 – DRAWING
A compass (recommended compass is the Rotring Master Bow)
A ruler
Cartridge paper – A3 size ideally heavy weight (120gsm plus)
Range of Pencils (6B-4H)
Tracing paper
Zero Eraser or equivalent
Optional – Coloured pencils.
Optional – Fine line drawing pens (useful to have, but not essential)