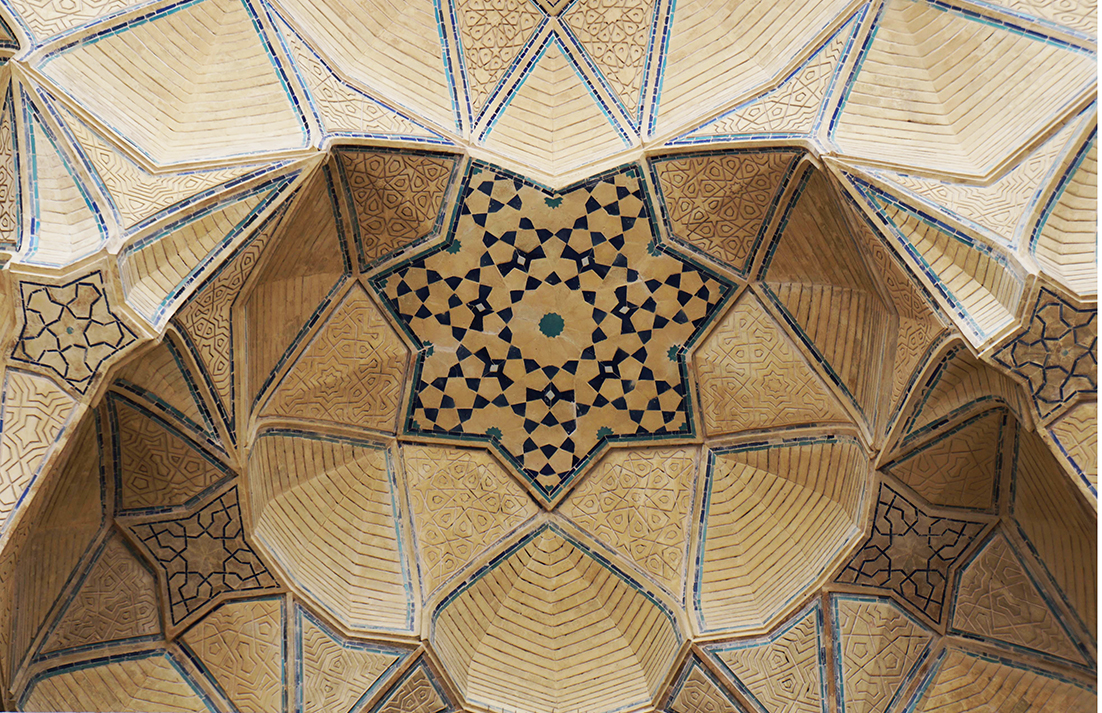 Heptagonal Iwan detail from the Jameh Mosque in Isfahan (photo R Henry, 2006)
Taught by Richard Henry, this archived course focuses upon geometric designs using 7-fold symmetry
DOWNLOAD RECORDINGS & CLASS eBOOKLETS: Standard Fee £80 / Concessions £60
Revered as a sacred number across many ancient traditions, the number seven is extremely rare within the natural world, and it cannot be constructed with compass and straight edge with perfect mathematical accuracy. Nevertheless, there are numerous very close approximations, some of which are strikingly beautiful. In this archived 4 week course, we will explore a range of rare seven-fold constructions from the Islamic tradition. We will revisit the Topkapi scroll, as well as study unique designs from Anatolia, Mamluk Egypt and Persia. The class will be suitable for beginners, as well as those seeking to refresh their skills. Taught by Richard Henry, all patterns covered will be designs not previously taught online before by Richard. (Scroll through header images to see examples of the designs related to those taught on the course.)
Note: There is a bonus 'course review' session, a one hour open forum during which participants can share their completed work, offer feedback and reflect back upon the course.
This is a beginners–intermediate level course. We will start with some of the simpler designs and then move onto more complex patterns. Scroll through header images to see examples of patterns typical of those that will feature in the new course.
REGISTRATION:-
Standard Fee £80 (4 classes + Review session): PAY NOW
Concessions £60 (4 classes + Review session): PAY NOW
4 Sessions of approx 2.5 hours each, PLUS additional bonus Review Session of 1 hour. Course videos and PDF e-booklets with step-by-step instructions available to all participants.
REQUIRED equipment & materials

A compass (recommended compass is the Rotring Master Bow)
A ruler
Cartridge paper – A2 size ideally heavy weight (120gsm plus)
Range of Pencils (6B-4H)
Tracing paper
Masking Tape
Zero Eraser or equivalent
Optional – Coloured pencils.
Optional – Fine line drawing pens (useful to have, but not essential)