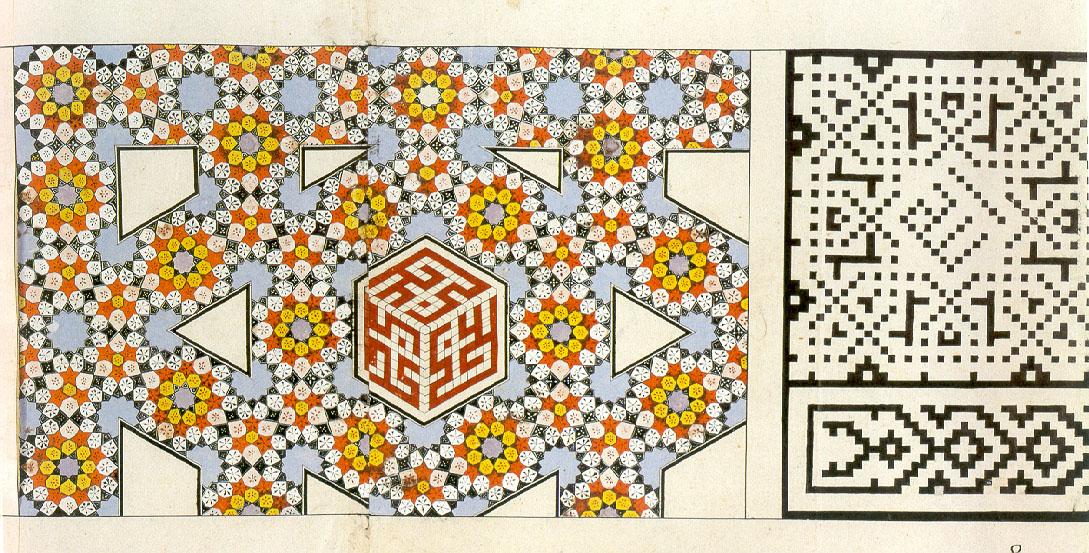 DOWNLOAD RECORDINGS & COURSE eBOOKLETS : FEE £70
Previously taught live by Richard Henry from Oct – December 2020, this series focuses upon patterns for the Topkapi Scroll.
Housed within the museum of the Topkapi Palace in Istanbul the 30 meter scroll, believed to have been prepared in Safavid Persia in the 15th century, is one of the most important historical documents within the field of Islamic geometric pattens. Comprised of 114 drawings, it offers key insights into the thinking of the medieval pattern masters, often illustrating hidden sud-grids from which surface patterns are derived.
In this 6 week course, we will dive into this extraordinary document and recreate a series of key designs from the scroll. We will uncover connections to a much broader range of designs found throughout the Islamic world and consider the implications for  our own contemporary work.
This intermediate-advanced level course is suitable for students who already have experience in constructing patterns by hand with compass and ruler (complete beginners would be advised to complete either Geometry Primer Series or one of the Exploring Islamic Geometric Patterns Series in order to gain the most from this course).
Each session is 2.5 hours long (although occasionally we will overrun slightly). A workshop video and additional supporting material will be available to download to ALL registrants after each session, whether they are able to attend the 'live' session or not. (Scroll through gallery in banner above to see images of designs from the scroll typical of those that we will examine in this series, as well as former students' work ).
On-line Registration Fee – Full Series: £70.
REQUIRED equipment & materials

A compass (recommended compass is the Rotring Master Bow)
A ruler
Cartridge paper – A2 size ideally heavy weight (120gsm plus)
Range of Pencils (6B-4H)
Tracing paper
Masking Tape
Zero Eraser or equivalent
Optional – Coloured pencils.
Optional – Fine line drawing pens (useful to have, but not essential)