Geometric & Arabesque Pattern workshops

Washington DC, 26th – 28th June 2020
This 3-day series is in collaboration with the Deen Arts Foundation It includes 7 distinct but complementary classes. Participants are welcome to take one or all the sessions.
Students use traditional methods to explore a range of classic Islamic designs and learn how to integrate freehand biomorphic motifs (Islimi/Arabesque) with geometric pattern.
Those signing up for the complete 2 or 3 day programme will receive a 10% discount.
All course materials and equipment will be provided.
ALL PATTERNS DIFFER FROM THOSE TAUGHT IN 2019
DAY 1
Friday 26th June 2020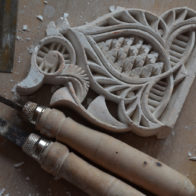 Plaster Carving
10am – 4.30pm  $110
Experience one of the most satisfying carving processes and complete a geometric and biomorphic pattern of your choice. Using traditional Moroccan tools and techniques.
Pattern and Symbol in Islamic Art
Public Lecture
9-10pm  (free)

Saturday 27th July 2020
Introduction to Geometric Islamic Pattern
9.30am – 12pm  $55
Using the traditional tools of compass and straight edge we will a create a traditional geometric design and explore principles of tessellation.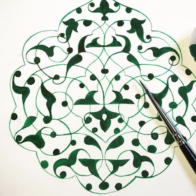 Arabesque Pattern
2 – 4.30pm  $55
Practical introduction to the fluid, versatile freehand biomorphic aspects of Islamic Pattern. The class will culminate with a classical Mamluk glide pattern.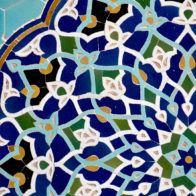 Arabesque Persian Patterns – Yazd Rosette
6:30 – 9pm  $55
Freehand motifs from medieval Persia. We will draw this famous arabesque ceramic radial pattern from The Jāmeh Mosque of Yazd

DAY 2
Sunday 28th July 2020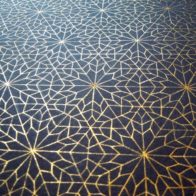 Geometric Mamluk Patterns
10am – 12:30pm   $55
Architectural focus upon the door patterns and screens from Medieval Cairo and studies of surface ornament within the mosques of Ibn Tulun and Sultan Hassan
Complex Geometric Rosette
2 – 4:30pm $55
Test your geometry skills and draw an advanced multi petaled rosette.
.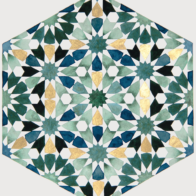 Geometric Patterns in Colour
6:30 – 9pm $55
In this practical session will create and transfer a classical geometric repeat module to tea-stained paper. The design will be expanded into an extended composition and a traditional colour palette explored using aquarelle paints. Themes of colour symbolism and harmony will also be considered.
Classes will take place in:
Diyanet Center of America
9610 Good Luck Rd, Lanham, MD 20706, USA