Geometric & Arabesque Pattern workshops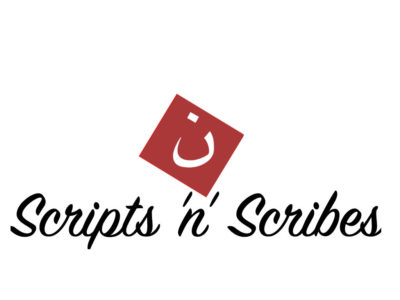 Washington DC, July 2020 Dates TBC
This 2-day series is in collaboration with Scripts n Scribes includes 4 distinct but complementary classes. Participants are welcome to take one or all the sessions.
Students use traditional methods to explore a range of classic Islamic designs and learn how to integrate freehand biomorphic motifs (Islimi/Arabesque) with geometric pattern.
There is a $40 discount when signing up for the complete course (all 4 classes), the total cost will be $180:
Register for the full programme, 4 classes, includes discount
All course materials and equipment will be provided.
DAY 1
Saturday July 2020
Geometric Islamic Pattern
10am – 12:30pm $55
Using the traditional tools of compass and straight edge we will a create a traditional geometric design and explore principles of tessellation.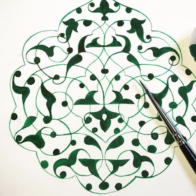 Arabesque Pattern
1.30 – 4pm $55
Practical introduction to the fluid, versatile freehand biomorphic aspects of Islamic Pattern. The class will culminate with a classical Mamluk glide pattern.

DAY 2
Sunday July 2020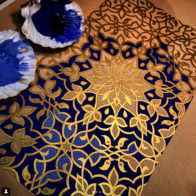 Arabesque Persian Patterns
10am – 12:30pm $55
Create a beautiful 6 fold 'Rumi Islimi pattern' from Kerman (pictured right) & learn about the 'Rumi' family of biomorphic motifs.
Geometric Persian Patterns
1.30 – 4pm $55
This session will focus on building patterns from medieval Persia and 5&10-fold symmetry.
Classes will take place in:
Diyanet Center of America
9610 Good Luck Rd, Lanham, MD 20706, USA