MOROCCAN MOSAIC & PATTERN WORKSHOP
 

Make your own traditional mosaic Moroccan using handcut and fired zellij direct from Fez, Morocco & learn to draw the classical patterns over an intensive weekend.
with visiting artists 
Stephanie June Ellis and Adam Williamson
MELBOURNE 
Weekend 7th & 8th January 2023
Gasworks Arts Park
21 Graham St, Albert Park VIC 3206

SYDNEY
Weekend 21st 22nd January
Time ~ 10am – 5pm 
Hugh Bamford Hall, Hugh Bamford Reserve, North Bondi NSW 2026, Australia​
Workshop investment includes all materials and refreshments ~ $440
Limited places ~ mosaic sets.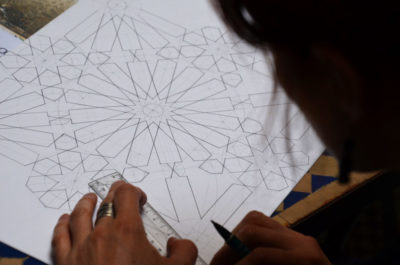 Day One
Using the traditional methods of a compass and ruler, students will learn how to draw a classic Moroccan Pattern and its variations found throughout stunning lavish Madrasas and Palaces all over the region.

Day Two
Students will experience the cutting process and assemble precious hand-cut Zellige pieces direct from Morocco, making your very own piece of art to take home with you. Each participants set is made up of a 100 pieces of skilfully extracted from the clay pit, beaten into tiles, bisc fired, hand glazed in multiple colours, cut out piece by piece and then chamfered. 
.……………………………………………………………………………………………………………..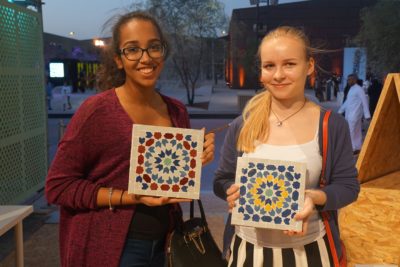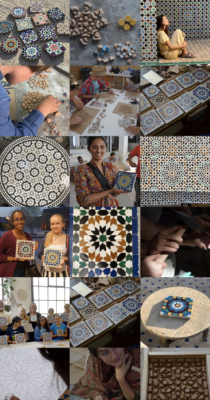 Your Tutors
______________________________
 
Stephanie June Ellis is a Multidisciplinary Artist, Mentor, Author and a specialist in drawing patterns. Through her workshops and retreats she engages with worldwide communities offering wellness through the creative process with a focus on bridging the worlds Traditional Arts, Crafts and Rituals through Sacred Geometry.
Primarily working with ink on paper, her creative practice and offerings centre around crystalline and botanical patterns which aim to transcend viewers beyond the physical world and encourage a wider vision of awareness.
Stephanie truly believes that geometry contains the power to unify the four dimensions of the mind; ~ Body, emotion, soul and spirit. 
She has dedicated her life to exploring primordial patterns and symbols ( the circle, the square, the triangle ) which operate in the psyche of everyday individuals. By exploring these principles, her journey continues, soaking up the very essence of ~ The Art Of Process. ​
​A nomad at heart, Stephanie has lived in Australia, Bali Singapore and London. She has and continues to travel extensively, working closely with artisans and craftsman around the world. She has worked with a long list of publishers, schools, universities, community organisations and retreat centres across the globe including Bali Mountain Retreat Centre, Flores Del Camino, The Brisbane Institute Of Art, Latrobe University, Barossa Regional Gallery, The Ismaili Centre, Toronto, Dumbo Feather Magazine, Art Of Islamic Pattern and Uk based charities The Common Ground Collective & The Creative Dimension. 
Adam Williamson
Adam Williamson is a skilled stone/wood carver and practicing artist. He has been commissioned by HRH the Prince of Wales, Oxford University, Shakespeare's Globe London, Kew Gardens & Westminster Abbey.
Adam is a leading specialist in biomorphic art (Arabesque / Islimi), he is a sessional lecturer at Birkbeck, University of London he has lectured at Cambridge University and taught in schools and museums across London, including the British Library, V&A, British Museum and PSTA.