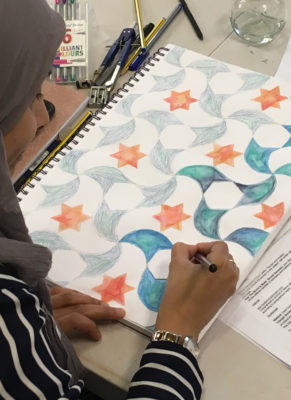 NOTE: This work shop was presented LIVE on 23rd May 2020. A video recording, together with slides, handouts and supporting material is available by registering on the right-hand panel. You will receive access to the material within 24 hours of registration.
Taught by Richard Henry, this introductory workshop is suitable for beginners, or those seeking to refresh their skills. This is the second of an ON-LINE series of workshops exploring 6 and 12-fold symmetry. This week we will using the an expanded Creation Diagram as our basis to re-create a stunning curvilinear pattern from the Court of Myrtles in the Alhambra, Granada (image below). There will be a brief contextual slide lecture exploring the historical variations on this design and its Andaluz relatives, with suggestions of how through transformation and tessellation it can be a rich source of striking new designs. Artist Delfina Bottesini will share her innovative design work across her numerous commissions inspired by variations upon this pattern. Each participant will receive a PDF handout detailing the steps undertaken to re-create the design, as well as access to a video recording of the session and additional supporting material. The course content will complement, but differ from our other ON-LINE courses. (Scroll through gallery in banner above to see images of historical instances and variations on the pattern, as well as former students' work ).
On-line Registration Fee: £15, or register for the whole series of 15 workshops for £90 (£70 concessions).
REQUIRED equipment & materials

A compass (recommended compass is the Rotring Master Bow)
A ruler
Cartridge paper – A3 size ideally heavy weight (120gsm plus)
Range of Pencils (6B-4H)
Tracing paper
Masking Tape
Zero Eraser or equivalent
Optional – Coloured pencils.
Optional – Fine line drawing pens (useful to have, but not essential)