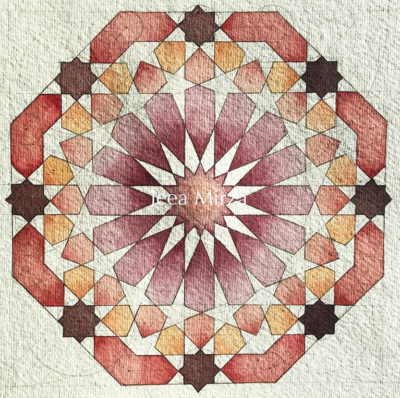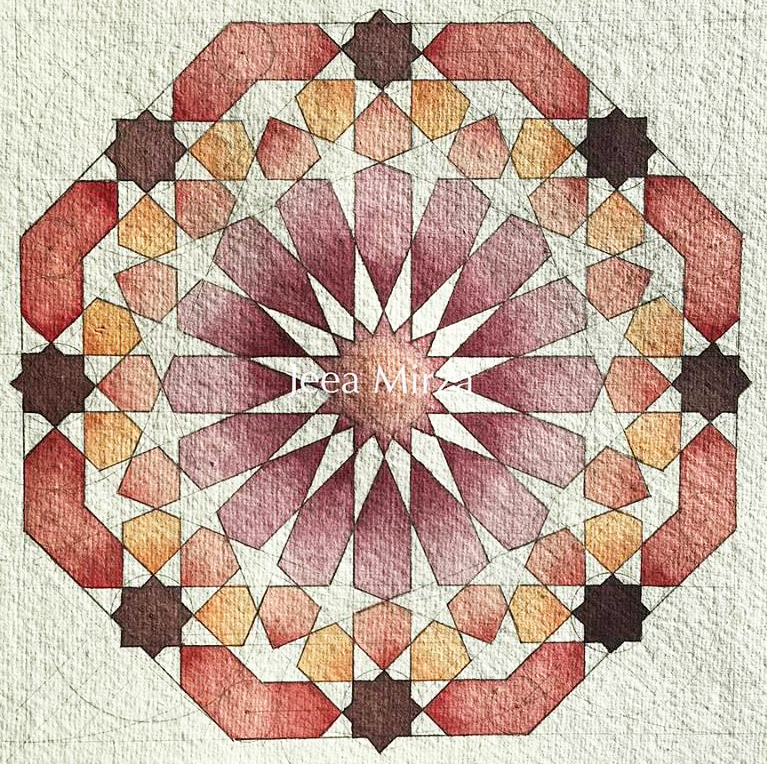 NOTE: This work shop was presented LIVE on 1st August 2020. A video recording, together with slides, handouts and supporting material is available by registering on the right-hand panel. You will receive access to the material within 24 hours of registration.
Taught by Richard Henry, this 'post-beginner'/intermediate workshop is suitable for those with some experience of constructing patterns with compass and straight edge. It is open to beginners, but if you are new to this discipline it would be advisable to start with earlier workshops in this series.
Patterns based upon 8-fold symmetry are found across the Islamic world and represent one of the three main families of symmetry in Islamic geometric art. In this workshop we will recreate the classic Moroccan 16-Fold Rosette surrounded by 8-fold rosettes, framed within an octagon (images above and below). We will consider this design within the context of a wider family of Moroccan designs and demonstrate how to establish the critical proportioning of the individual shapes with 100% accuracy. Each participant will receive a video recording, and supporting material, including a PDF handout detailing the steps undertaken to re-create each pattern, so that students can re-create the design at home after the class. Although this can be taken as a stand-alone workshop, we will build upon themes introduced in earlier workshops in the Exploring 8-fold Symmetry Series, which can be downloaded from our archive. (Scroll through gallery in banner above to see images of historical 8-fold designs and former students' work).
Individual class: ££15. Full series of 15 classes: £70 – £90.
REQUIRED equipment & materials
A compass (recommended compass is the Rotring Master Bow)
A ruler
Cartridge paper, 3 sheets – A3 size ideally heavy weight (150gsm plus)
Range of Pencils (6B-4H)
Tracing paper
Masking Tape
Zero Eraser or equivalent
Scissors
Optional – Coloured pencils.
Optional – Fine line drawing pens (useful to have, but not essential)