Summer School (London Intensive) 1 or 2 weeks.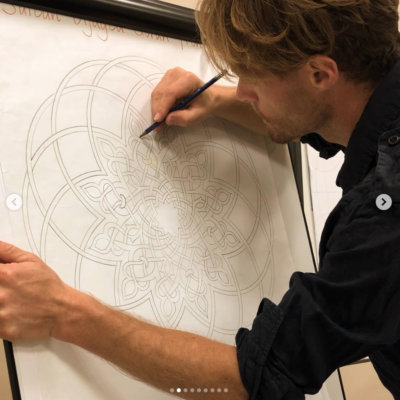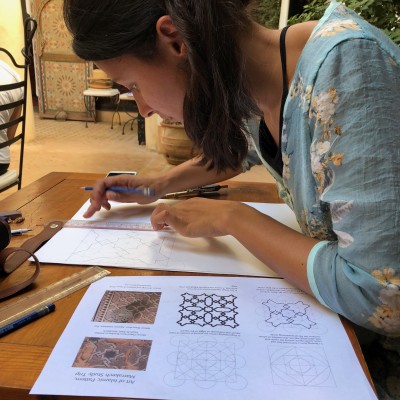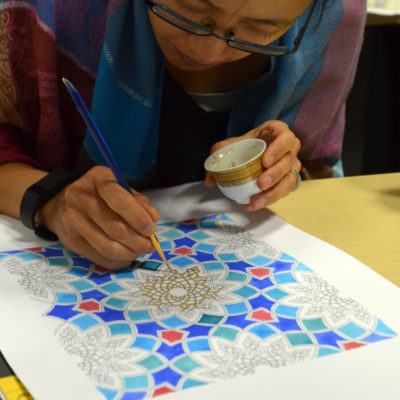 SUMMER SCHOOL 2021 – Face to Face Classes Return!
With the lockdown gradually lifting, we will shortly be resuming our face to face classes in the London studio. Join us for this year's Summer Intensive. Open to students who are new to Islamic Patterns, as well as those with some previous experience, participants may join for 1 or 2 weeks. Week 1 is an intensive version of our weekly introductory course and assumes no previous knowledge of Islamic Patterns. Week 2 of the Summer School will comprise an advanced course focusing on a particular region. This year the course for Week 2 will be one of our most popular follow-courses Persian Patterns.
Over the two weeks we will cover all aspects of Islamic pattern making, including geometric drawing, biomorphic design/Arabesque and each week will culminate a traditional craft element.
NOTE: Students may choose to attend 1 or 2 weeks of the programme. Participants who choose to enrol for 2 weeks are entitled to a £80 discount.

Summer School – Week 1
Monday – Friday 10:30am – 4.30pm
2 – 6th August 2021

This introductory module will introduce 6-fold and 8-fold geometric patterns from across the Islamic world, together with elementary biomorphic patterns, with a focus upon the Rumi motif. There will be two brief contextual slide lectures.
The module culminates with the application of traditional plaster and stucco carving.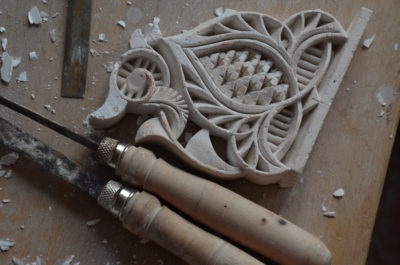 Experience one of the most satisfying carving processes and complete a pattern of your choice.
Participants will practice relief & piercing carving techniques and receive an introduction to plaster casting and mold making. There will also be to opportunity to use traditional chisels from Morocco.
(Week 1 can be taken as a stand-alone module, or together with Week 2)

Summer School – Week 2 – Persian Patterns

Monday – Friday 10:30am – 4.30pm,
9 – 13th August 2021
This is an opportunity for students to develop more advanced skills in constructing geometric and arabesque/islimi.
The focus of the course will be upon patterns from medieval Iran/Persia, where Islamic art reached an extraordinary peak of perfection. We will look in particular at the stunning 10-fold rosette patterns, the use of the Golden Section in constructing these patterns and explore links between more recently discovered 'Penrose' tilings and medieval Persian 'girih' (knot) patterns. Students will learn to integrate these complex geometric designs with the family of Persian biomorphic motifs and explore more advanced compositions. A number of new patterns will be introduced, so former students are invited to return for this refreshed presentation.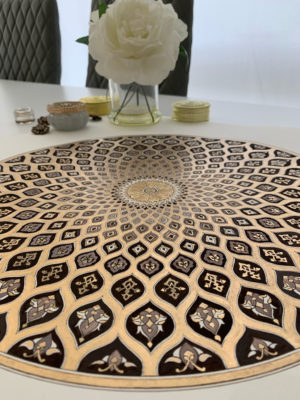 The class will culminate in the painting and gilding of a classic Persian Pattern in the traditional style.
We will prepare and work with real gold leaf and natural pigments.
(Week 2 can be taken as a stand-alone module for those who have already completed an introductory course, or have an equivalent level of experience)