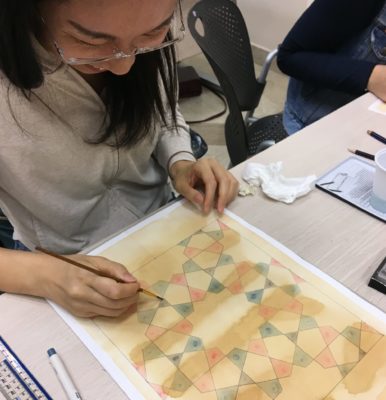 Introductory course exploring geometry, colour and tessellation.
This is an intensive weekend workshop, suitable for beginners or those seeking to refresh their skills. The content differs from (but will complement) our other introductory courses. On the first day, participants will be shown how to construct a number of classic design modules from the Islamic geometric tradition and then prepare watercolour paper with tea-stained ground. On the second day participants will be shown how to repeat and transfer their design and develop an extended composition. Participants will then complete their design in colour using a combination/selection of inks, water-colours and gouache. We will consider traditional palettes of colour, how to handle paint effectively and how to create a harmonious work whilst drawing inspiration from the Islamic tradition. (Scroll through gallery in banner above to see images of former students' work).
All materials included.
£140 Deposit £70
Rayhana Haque's painting from recent masterclass.